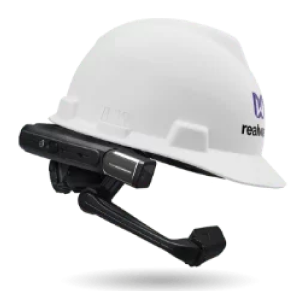 RealWear HMT-1
CHF 2000.00
*(excl. VAT)
The RealWear HMT-1 is a full-fledged head-mounted device with a high-resolution micro display (854×480). Due to its robust construction, the device is suitable for all kinds of applications. The extensive functions, such as excellent voice control, image recording, scan function, flash/lamp and much more make the head mounted device a helper in many situations. Thanks to simple voice commands for all applications, files or browser-based solutions, the hands are always free for the essential tasks.
What's included
RealWear HMT-1 (T1200G model)
Rechargeable/removable battery
USB cable type C
Workband
2 years warranty
RealWear HMT-1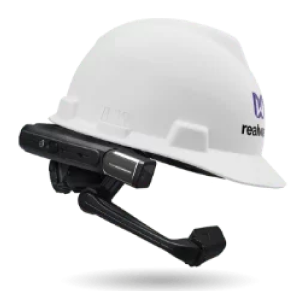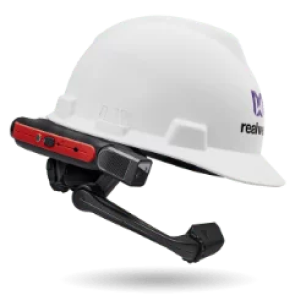 RealWear HMT-1Z1
CHF 4900.00
*(excl. VAT)
The RealWear® HMT-1Z1 is an intrinsically safe ATEX Zone 1 and CSA C1/D1 certified fully rugged head-mounted device.
Use it in wet, dusty, hot, dangerous environments. It optionally snaps into safety helmets and can be used with safety glasses or corrective eyewear.
What's included
HMT-1Z1 with preinstalled non-removable battery (3400 mAh Li-Ion)
Wall Charger
MicroUSB Cable with inline Charging Protection "safety box"
Overhead Strap
Rear Pad
1 year warranty
RealWear HMT-1Z1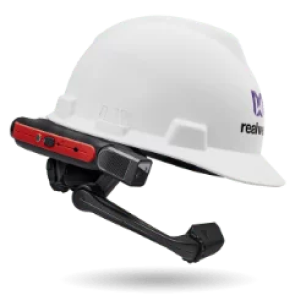 Bundles include additional value to get you started quickly:
Free one month inspect AR license to get you started with work instructions
Free 1h Get-started training – we help you to setup the device, get started quickly and efficiently into your journey
For Navigator 500 inquires, please contact us at talkto@augment-it.com. Learn more about RealWear Navigator 500.
Tech Specs
Terms and Conditions
Tech specs
Display
Operating System: Android 10.0 (AOSP) + WearHF™ hands-free interface
Chipset: 2.0 GHz 8-core Qualcomm® Snapdragon™ 626 with Adreno 506 GPU – OpenGL ES 3.1 & OpenGL 2.0
Memory: 32 GB Internal Storage / 3 GB RAM / MicroSD slot (max card supported 256 GB)
Included Applications: Document Navigator, Camera with Barcode Reader, Video Recorder, Media Player
Languages: English, Spanish, French, German, Italian, Portuguese, Russian, Mandarin Chinese, Japanese, Korean, Thai, Polish, Traditional Chinese
Connectivity & sensors
Bluetooth: Bluetooth Low Energy 4.1
Wi-Fi: 802.11 a/b/g/n/ac – 2.4GHz and 5GHz
GPS and Location: GPS, GLONASS, A-GPS
IMU: 9-DOF (3-axis accelerometer, magnetometer, and gyroscope), software enhanced stabilization
Battery
Capacity: 3250 mAh/12.025 wH Li-Ion, rechargable and field swappable

Battery life: Full shift (9-10 hrs) with typical use
Physical characteristics
Weight: 380 g
Ruggedization : 2 meter drop, IP66, MIL-STD-810G
Dedicated keys: Power key, application specific action key
Ports: 3.5mm audio, 1 USB Type-C
Boom arm: Adjusts six ways for all head sizes, left or right eye compatible, display flips out of way when not in use
Display type and resolution
20º field-of-view, 1 meter fixed focus, 24-bit color LCD, 0.33 inch diagonal, outdoor visible
WVGA (854×480)
Audio
Microphone: 4 digital microphones with active noise cancellation
Speaker: Accurate voice recognition even in 95 dBA of typical industrial noise
Multimedia
Camera: 16 MP 4-axis optical image stabilization, PDAF with LED Flashlight
Video: Up to 1080p @30fps. Codecs: VP8, VP9 and hardware encoding support for H.264, H.265 HEVC
Terms and Conditions
1. ACCURACY OF BILLING AND ACCOUNT INFORMATION
You agree to provide current, complete, and accurate purchase and account information for all purchases made at the Netcetera Store. You agree to promptly update your account and other information, including your email address and invoice details, so that we can complete your transactions and contact you as needed in connection with your transactions.
2. PRODUCT AVAILABILITY AND QUANTITY AND ORDER LIMITS
Product images used for advertising, brochures, the online shop, etc. are for illustration purposes only and are not binding. Product information available through the online shop is compiled to be as customer-friendly as possible but is not binding. Information provided by the manufacturer (e.g. manufacturer warranty) applies, provided that it is valid in Switzerland.
Netcetera is committed to providing up-to-date and precise information on availability and delivery times in the online shop. However, production and delivery shortages, in particular, may cause delivery delays. Therefore, all information on availability and delivery times is subject to change.
3. PRICE AND PAYMENT
Prices at the Netcetera Store will be as stated on the Website.
Pricing is for commercial, governmental, or educational purchasers only and not for private customers.  The Netcetera Store does not have a price match guarantee.
Prices shown on the Website are inclusive of applicable taxes unless otherwise stated ("Taxes"). Prices shown on the Website include delivery costs within Switzerland.  Shipping to other countries and worldwide is possible. Please inquire about the shipping fees.
Product prices and availability are subject to change at any time and without notice. Netcetera may place a limit on the quantities that may be purchased per order, per account, per credit card, per person, or per household.
Netcetera may refuse or reject any order at any time, refunding you any money you have paid for the order, for reasons that include, but are not limited to, if you have not met the conditions specified at the time of the order, if your payment cannot be processed if the ordered products or services are not available, or for obvious errors on the Website or made in connection with your order.
Credits or refunds will be made to the same method of payment and account used to place the Order.
The Netcetera Store offers different payment options as identified on our Website. We reserve the right to change our payment options at any time and for any reason or no reason. For enterprise customers, an official purchase order may be required or advance payment by bank transfer.
4. ERRORS ON SITE
We regularly check that we publish information accurately, update the Website regularly, and correct errors when discovered. However, any of the content on our Website may be incorrect or out of date at any given time. We reserve the right to make changes to the Website at any time, including product prices, specifications, offers, and availability.
5. TERMINATION OF SITE USE
Netcetera may terminate your account or use of the Netcetera Store at any time for any reason, including, without limitation, if you are in breach of these Terms of Use and Sale or if the Netcetera Store is no longer operated by Netcetera. By using the Netcetera Store, you agree to be responsible for any orders you make or charges you incur prior to such termination (which are deemed to include without limitation any such orders or charges made using your account criteria). Netcetera may change, discontinue, or otherwise suspend the Netcetera Store at any time, for any reason, and without prior notice to you.
6. FEES AND PAYMENT
6.1. Fees
You agree to pay Netcetra all Fees set forth in the attached Order Quote Form in Swiss Francs.
6.2. Payment Terms
Payments to Netcetera must be made NET 30 days from the date of, and in the currency and according to the terms stated on, Netcetera's invoice.
6.3. Taxes
You will pay all value-added, goods and services, sales, gross receipts, or other transaction taxes, fees, charges, or surcharges or other similar taxes, charges or fees, or any regulatory cost recovery and other surcharges that are owed with the delivery of the goods. You will also be responsible for any applicable stamp taxes and for all other taxes that you are legally obligated to pay.
6.4 Delay of payment
Should customers fail to settle their payment obligations in whole or in part, all outstanding amounts owed to Netcetera for any purchases become immediately due (within 8 calendar days from the first reminder for prepayments). Netcetera may request immediate payment and suspend any further product deliveries to the customer.
6.5 Reservation of ownership
All ordered products remain the property of Netcetera until payment is received in full.
7. WARRANTY & SUPPORT
The warranty of the purchased hardware items has to be directed directly to the manufacturer and the official limited warranty terms of Microsoft and RealWear do apply. In no circumstance, Netcetera will be held liable for warranty claims. Netcetera provides customer support in claiming warranty cases directly to the manufacturer. All repair costs incurred outside of the warranty shall be borne by the customer.
8. DATA PRIVACY PROTECTION
The privacy statement is an integral part of these GTC. By accepting this GTC, customers also agree to the privacy statement.
9. PLACE OF JURISDICTION AND APPLICABLE LAW
All legal relations between Netcetera and customers are subject to substantive Swiss law and the place of jurisdiction is Zurich. The United Nations Convention on Contracts for the International Sale of Goods (CISG) does not apply.
Jetzt Termin vereinbaren!
Sprechen wir darüber, wie Sie AR in Ihrem Unternehmen einsetzen können. Oder wir vereinbaren gleich einen Termin für eine Produktdemonstration.